After having walked across Singapore numerous times now, this is in my opinion one of the best coast-to-coast walks across Singapore. I have created maps and a brief guide for anyone who has a few spare days and wants to get a feel for what this country is about.
This 'trail' (of completely my own creation) will take you through many of Singapore's tourist highlights as well as some of the surprisingly extensive nature areas in the country. It also includes some of the more everyday areas of Singapore.
How long?
The trail is approximately 35km, so if you are fit and keen and have that as a goal you could do it in a long day. However, that would mean missing out on taking the time to find out about what Singapore is: reading about the history, sitting and listening for the animals of the jungle, taking time out in a local hawker center for a nasi lemak and a teh ping. You could break it into 2 or even 3 days. Transport in Singapore is very easy, you are never far away from a bus or MRT station, and you can always call a taxi which are numerous and cheap.
Navigation:
As this trail is my own creation there is no signage. Maybe one day there will be (for example, Singapore Nparks have created an east-west Coast to Coast Trail). It is relatively easy to navigate, as long as you are used to reading a map. Use your map app, whichever one you use, mobile coverage is total. If you do get lost don't get frustrated, you will be close by. If you ask Singaporeans, they are invariably helpful and will redirect you.
NOBO or SOBO:
North bound or South bound? It doesn't really matter. I have described it south to north but it should be easily followed the other direction. The north part is more isolated (I hesitate to even use that word in Singapore) and quiet, whereas ending your hike in downtown Singapore, sweaty and muddy and possibly looking like a mad person, could be entertaining. As a bonus though, you could ease your suffering on the last kms with a visit to an airconditioned mall on Orchard Rd or perhaps a cold beer at Clarke Quay.
Safety:
Singapore is pretty safe, you don't need to worry about much. Heat stress is something to consider, take water and a hat. Take a break if you need it, there is usually a shaded place or a shop close by (especially in the southern parts). An umbrella for both rain and sun is useful. There is mobile coverage everywhere. Emergency number is 995 for ambulance.
Marina Barrage to Lornie Rd/Macritchie Reservoir:
This stretch is approximately 15km. There are plenty of options for resupply here, from 7-11's to Starbucks to some of the flashest restaurants in Singapore.
The trail starts in the downtown core, passing through many of Singapore's modern and historical highlights. From Marina Barrage at Gardens By The Bay (or you could start further up if you want), following the waterfront, pass by the Supertrees and Marina Bay Sands and the Fullerton Hotel (pop in for a high tea if you feel like it) to the vomiting tiger, also known as the Merlion.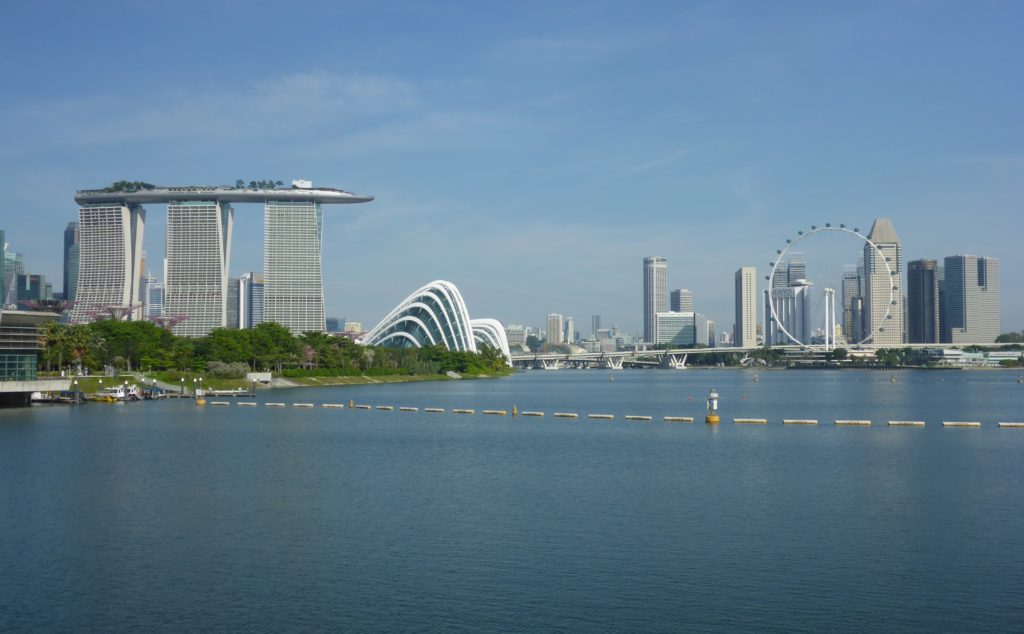 Carry on round Boat Quay (past the statues of naked boys, don't take pictures as it makes you look dodgy) through to Clarke Quay. These are upmarket areas – beware of yuppies and entitled expats.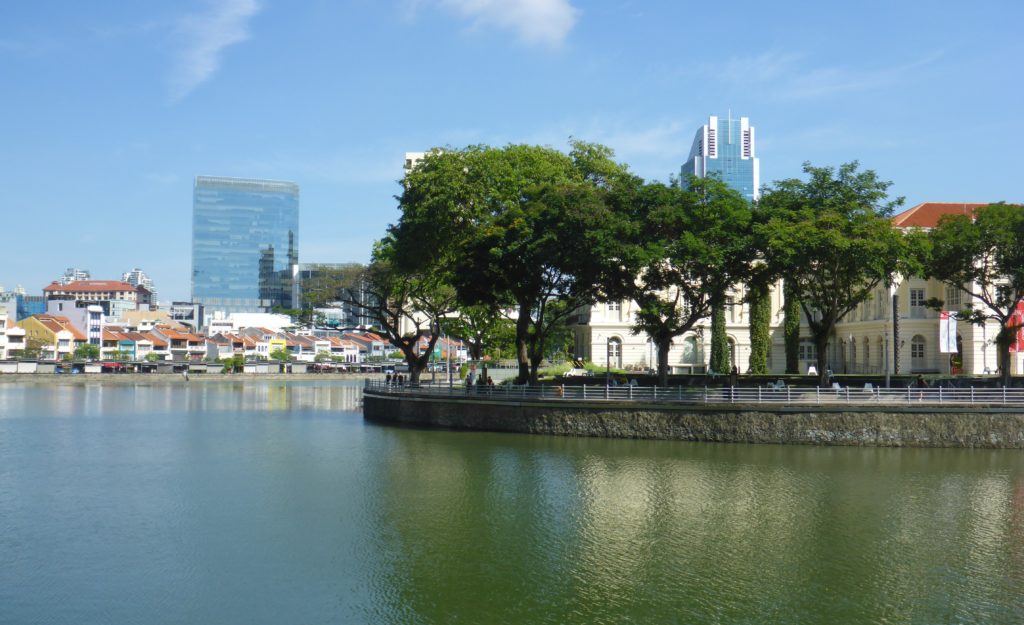 Head away from the water into historic Fort Canning Park then onto Orchard Road, passing by the National Museum of Singapore if you wanted to take some time there.
Orchard Road is the center of Singapore shopping – go on a Friday night or weekend if you want to make the walk a bit more sporting, it's like wading upstream in a river. Once though there continue up the road, curving around via Tanglin and Napier Rds to the UNESCO world heritage Singapore Botanic Gardens, they are truly magnificent. Heading to the other end of the Gardens, head onto Kheam Hock Road, this is how the other half live, there are some flash houses along here.
After the old Chinese cemetery pass over the Lornie Highway on the overbridge, follow the park connector signs through the maze of roads to MacRitchie Reservoir Park.
If you need, bus 157 will take you to (south) or from Tan Kah Kee MRT station.
Lornie Rd/Macritchie Reservoir to Bukit Timah Nature Reserve:
This stretch is approximately 8km, with a bit more up and down. From here you have a couple of hours in the (by Singapore standards) jungle, so be prepared, especially with water. Hopefully you see some wildlife. Take your time.
Following the signs to Bukit Timah, head up the trail through the golf link to Jelutong Tower (the views are worth the effort to climb) and Rifle Range Rd.
There are lots of maps on signboards along the way. Along here in durian season you will see Singaporeans waiting for the thump of ripe durians falling from durian trees, and rushing to claim their prize. Head along Rifle Range Rd (it's not very busy, and pedestrians are common here). About 500m after you cross the flyover over the busy highway you will see the pipeline trail (it's not signposted, but very obvious as a wide clear grassed area to the north).
Clamber over the railing and head up here about 500m to find the entrance to the Catchment Trail (it's the second trail entrance on the left, entrance is a bit hidden). Head up the trail past another junction to the asphalted Summit trail. It's worth heading the 10 minutes up to the summit of Singapore.
No views from here unfortunately. Beware of macaques (monkeys) if you have food around. Head down the path all the way to the bottom at the Visitor Centre and down to Hindhede Drive.
Beauty World MRT station is just down the road, as are lots of food and drink options if you need to rehydrate with a teh ping (iced milk tea) or yiping Tiger (bottle of beer).
Bukit Timah to Woodlands:
This stretch is approximately 13km, and pretty flat. From here on you are on the Rail Corridor, which used to be the main railway line from Malaysia into Singapore. There are some stretches of forest walking, a bit of walking through suburban Singapore, and a few stretches of urban desert. You are never too far from a road, there are many exit points, and you will see Singaporeans out for a stroll in their neighbourhood.
*Update Feb 2022: There are some closures along here while the Rail Corridor is being upgraded. Detours are available. Click here for details.*
From Hindhede Drive you will see steps on the left of the overhead bridge heading up to the raised Rail Corridor. Head right (north). It is only just over a kilometre to the Rail Mall and then Hillview MRT station.
The rail corridor is easy to follow; the only detour is at Choa Chu Kang Rd, the corridor cannot be followed here. It's easy to either go east to Woodlands Rd and up to the bus park and back west to the corridor, or follow the Pang Sua Park Connector on the other side of the road to a footbridge which is crossed east back to the corridor.
When you reach Kranji Rd you have a choice of where to finish. You can head north along Kranji Rd to the coast, such as it is – it's a bit industrial, but it is the northern coast (if you go a little west on Kranji Loop you can at least get a view of mangroves and water). Bus 925 goes to Kranji MRT station.
Alternatively, you can carry on northwest along the rail corridor, past the migrant workers hostels and their associated debris onto Woodlands Rd and eventually finish at the maze of roads and signs at Woodlands checkpoint leading to Johor in Malaysia.
There are plenty of buses around here, including buses 160, 170 and 178 along Woodlands Rd to Kranji MRT station.
Maps: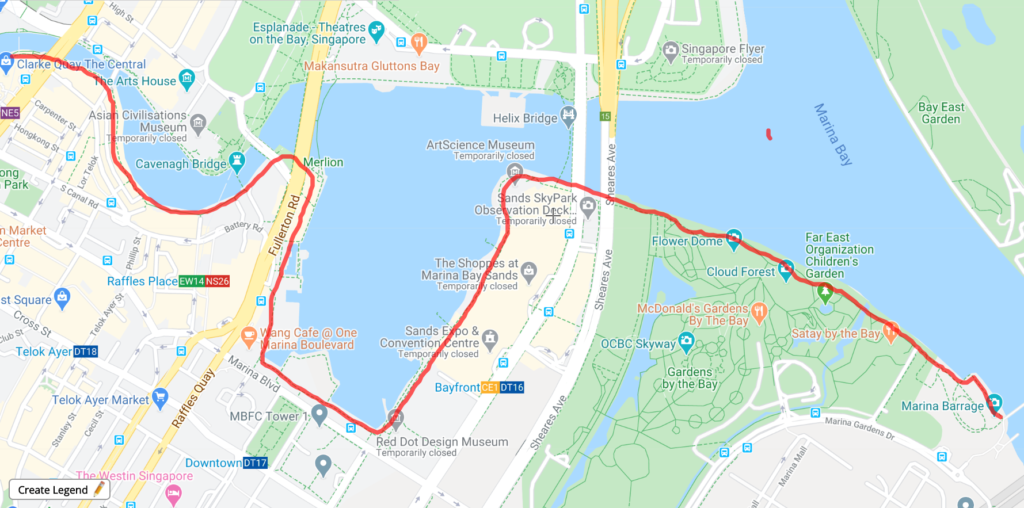 Links to the Rail Corridor maps:
Please note that although these are very good maps, they are 10 years old, so there may have been some changes. Having said that, not much has changed and I have tried to mentioned it where possible. The MRT stations marked as under construction actually exist now.
Map 1: Bukit Timah and Rail Mall to Choa Chu Kang Rd/Bukit Panjang MRT
Map 2: Choa Chu Kang Road/Bukit Panjang MRT to Sungei Kadut Avenue
Map 3: Sungei Kadut Avenue to Woodlands